Xerox ConnectKey Technology
Once again Xerox has pushed the boundaries of technology higher. With our new ConnectKey Technology, it's become the centre of a productivity ecosystem helping your team not only connect with each other like never before, but provides a link to the latest available technologies all while protecting your valuable and confideintial data against security breaches. The new platform focuses on the following key elements: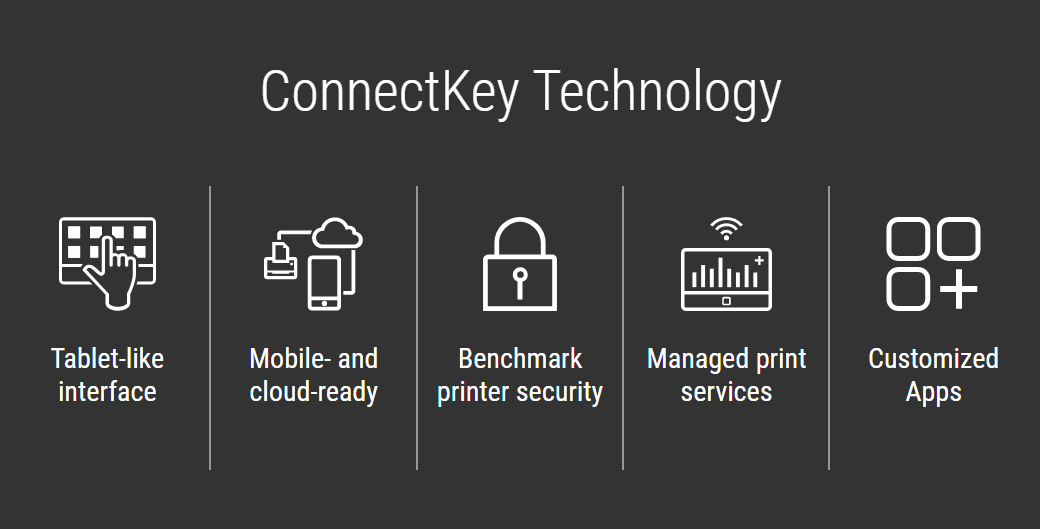 Tablet-like Interface
Tablets and Smartphones have become a mainstay in everybody's lives, Xerox brings that experience to the user interface making it easier to use than ever before. Scroll, pinch, tap your way to new levels of productivity.
Mobile and Cloud Ready
Whether leveraging the power of popular based solutions like Google Drive, or Microsoft OneDrive (and many more) or just supporting an ever growing mobile workforce, Xerox ConnectKey technology will help your team get work done.
Benchmark Printer Security
The move to the digital era means that everything that was once only paper (not teriibly useful, but somewhat controlled) brings more and more of your mission critical information into electonic form. While this makes it easier for collaboration among teams within your organization, it also opens it up to potential security breaches. Xerox ConnectKey technology ensures that the addition of a new print solution doesn't open the door for hackers.
Managed Print Services
Xerox ConnectKey technology provides you with a platform to enable next generation services. The automated submision of meter reads, toner ordering and even troubleshooting allow your staff to focus on their work, not the office technology that supports them getting their work done.
Customized Apps
Apps have come onto the scene to help boost productivity in all aspects of life. Scheduling your time, watching your diet, ensuring that you get enough activity in every day has shifted how people get things done in their personal life. Xerox has extended with ConnectKey technology to help you accomplish the same in your work life too. Mobile and Cloud ready, converting static or scanned documents into dynamic and editable forms, even the ability to translate documents into up to 52 languages bring office technology productivity to an entirely new level.
To find out more about how Xerox ConnectKey technology and Tri-County Copiers Plus can help you boost your productivity without breaking the bank, contact us today!